SAFETY TIPS TO LOAD YOUR DUMSPTER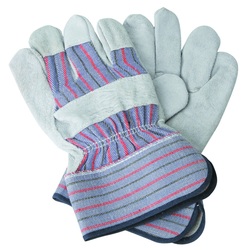 ¨ Wear work gloves at all times. Whether you are carrying a heavy object or sharp glass, they will protect your hands from any hidden nails or dangerous material. They will also help give you traction on the objects so you can carry them easier.

¨ If you have any questions about what you can and cannot throw away, ask your hauler. You do not want to have to deal with removing the materials if you try to throw Freon, batteries, or any hazardous materials away.

¨ Never throw any object into the dumpster and leave a corner of it hanging out of the side. While you might be relieved to be finished for the day, the overhang could seriously injure someone walking past the container.

¨ Lastly, never attempt to jump into the container from the top to retrieve something that got thrown in by mistake. This can lead to serious injuries. Instead, call your hauler and they will come help you retrieve it.


---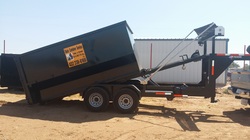 Tips for the Safest and Fastest Hauling

If you are disposing of heavy materials and large objects, ask someone to help you. Many customers end up pulling their back trying to quickly do all of the work themselves. Rather than rushing and doing all of the work on your own, the junk will be disposed of more quickly if you ask for help and use teamwork to lift the heavy materials.

When you have large or strange shaped materials you should put them at the bottom of the dumpster. This way, with the largest materials at the bottom, smaller pieces of debris will fill in the rest of the empty space and you will be able to fit more junk into your dumpster rental.

One tip that we have received from customers, is to put loose debris in trash bags. While this may seem like it would take up more room—surprisingly enough, it will help let you fit more into the rental. First, put loose debris into strong trash bags, then press them down until all of the extra air is let out, making it smaller. You can then place more of these compressed bags of material into the dumpster to fit more debris.

Lastly, throw in your smallest and leftover debris. Because it is the smallest, it will fall down and settle into the crevices.

If you follow this process, you will be able to get the most out of your dumpster and will have no overflows. This will allow you to maximize the space in your rental and fill it to capacity properly.

What to Look at When Renting a Dumpster

* You are going to have to look around your driveway and yard to see if there is room for a dumpster to be placed. Remember, you are going to need a lot of space for the roll-off truck to deliver the container and space above to throw your materials in.
* If you don't have space in your driveway, you are going to need to check with your local municipality to see if you need to obtain a permit to place the rental on the street.
* Talk to your rental company about exactly what you need to put into the dumpster so they can properly assess what size container you need for the weight limit.
* Think about how long your project will take so you can rent it for the correct amount of time.


---